Recombinant Proteinase K, PCR grade

Recombinant Proteinase K, PCR and molecular biology grade, based on sequence of enzyme from fungus Tritirachium Album Limber, expressed and purified from recombinant source
EC 3.4.21.64 - CAS# 39450-01 - M.W. 29.3 kDA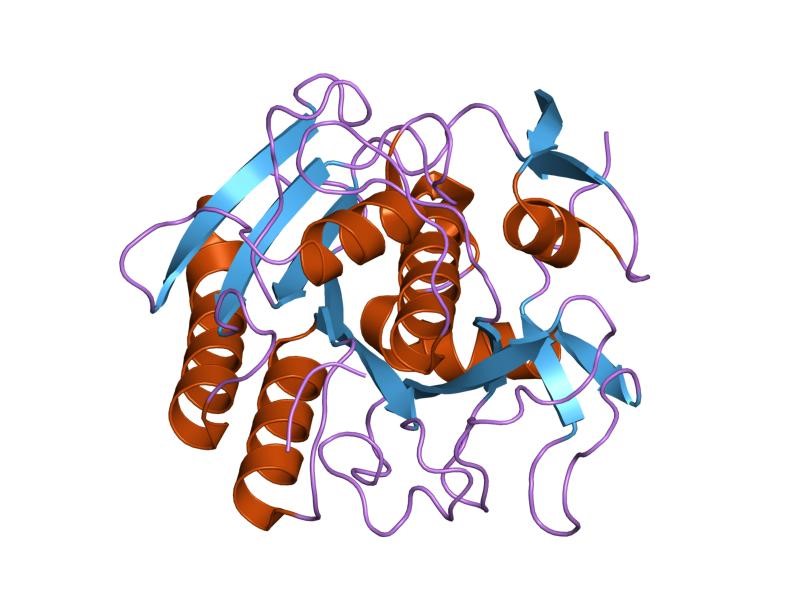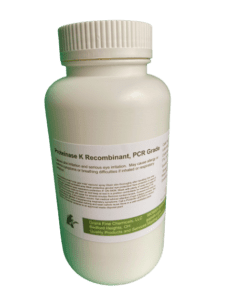 Proteinase k from Tritirachium Album  Limber and its recombinant variants are the most used enzyme for general digestion of proteins. It got its name from its unique ability to digest keratin, such as hair or nails. An essential lab reagent, proteinase K is a broad spectrum serine protease enzyme. It's a member of the S8 (subcilisin) family of proteases. Proteinase K is also known under the names of protease K, endopeptidase K, and Tritirachium alkaline proteinase.
Proteinase K digests native proteins by clearing peptide bonds adjacent to the caroboxyl group of aromatic and aliphatic amino acids with blocked alpha amino groups. It is activated by Ca++ ions, and it is stable in the presence of chelating agents.
Proteinase K is commonly used for its broad specificity in sample digestion/lysis. It's main application is in isolation of high quality genomic DNA and RNA out of microbial and mammalian samples. During the process of tissue lysis or homogenization, proteinase K protects nucleic acids by rapidly degrading RNAses and DNAses enzymes, and as such is essential component of many molecular diagnostics, forensics and life sciences protocols and kits.  To learn more about proteinase K we recommend you carefully read the WikiPedia link .
Proteinase K is an essential reagent due to sudden increase in demand because of COVID-19 pandemic, this enzyme is in a short supply at the current market and has become a de-facto bottleneck for further proliferation of PCR tests. In order to break the testing bottleneck, Gojira Fine Chemicals LLC has bought to market the highly affordable, high quality, PCR grade proteinase K both in the form of lyophilized powder and in the form of a ready to use liquid buffered solution.
Gojira Fine Chemicals Proteinase K is highly pure, PCR/molecular biology grade recombinant enzyme, with guaranteed Proteinase K activity of >30 U/mg of powder and high specific enzyme activity of >40U/mg of protein. We recommend this enzyme to be stored at -20 deg. C for optimum shelf life. Gojira Fine Chemicals' Proteinase K enzyme is formulated to be highly stable over a wide pH range of 4- 12. It is a highly pure, sterile product, with no bio-bruden, and no presence of DNAse, RNAse, DNA and RNA contaminants. The recommended stock solution for Gojira Fine Chemicals Proteinase K is to dissolve 20-40mg/mL of enzyme into an aqueous buffered solution of 50mM Tris-HCl (pH 7.5), 3mM CaCl2, with 50% Glycerol.
This enzyme is readily available and we have it in stock in our Ohio, USA facility. We carry large inventory and are able to provide you at any time with multi kilogram shipment of this essential enzyme. We provide free samples for qualified institutions. 
Unless otherwise indicated, Gojira Fine Chemicals, LLC products are  intended as raw ingredients for manufacturing  and research use only, and are not  for therapeutic or nutritional use in humans or non-research animals. It is the ultimate responsibility of the customer to determine if the particular product is fit for their intended purposes