Pristane, Synthetic ≥ 98%

PR1001 Pristane, Synthetic GC purity ≥ 98%  In-vivo / bioprocessing grade
EC# 217-650-8 - CAS# 1921-70-6 - M.W. 268.52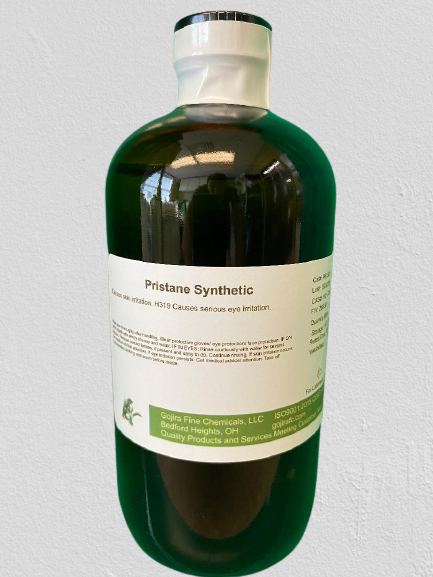 Pristane  is saturated terpenoid alkane which is found in nature in the shark liver oil, stomach oil of certain birds of the orders of Procellariformes and in certain mineral oils. It is hydrocarbon oil which is hydrophobic transparent liquid, soluble in many non polar organic solvents such as diethyl ether, benzene, chloroform and carbon tetrachloride.
This molecule is considered to be the best immunologic adjuvant for the production of monoclonal antibodies in mouse models. Pristane acts via induction of lupus autoantibodies and thereby induces autoimmune diseases in mammals. Pristane is commonly used to create an efficient animal models of human autoimmune disease such as in the balb c mouse model of lupus, pristane treated mice for the rheumatoid arthritis, lupus nephritis models , cell proliferation studies, and arthritis induced cell death. It is one of the most ubiquitous inflammation inducing reagent available in the market . Pristane induced lupus is considered a gold-standard animal model.
Due to the international protection of the sharks, the availability of the natural pristane was limited, and there was a bottleneck in supply. Gojira Fine Chemicals is bringing to your lab high quality, endotoxin free synthetic pristane without killing any sharks!
Whatever you intend to use Gojira Fine Chemicals Pristane for pristane induced lupus model / working with experimental lupus, or for production of monoclonal antibodies of for studying signaling pathways and its gene expression, or using it for its technical applications such as electrical insulation or anti corrosion reagents, or for studying petroleum geology, we have the best quality ecologically friendly pristane for you! Contact us for the free samples.
Unless otherwise indicated, Gojira Fine Chemicals, LLC products are  intended as raw ingredients for manufacturing  and research use only, and are not  for therapeutic or nutritional use in humans or non-research animals. It is the ultimate responsibility of the customer to determine if the particular product is fit for their intended purposes