GT1001 Guanidine Thiocyanate, Molecular Diagnostics Grade 
EC 209-812-1 - CAS# 593-84-0 - M.W. 118.16 - Linear Formula NH2C(=NH)NH2 · HSCN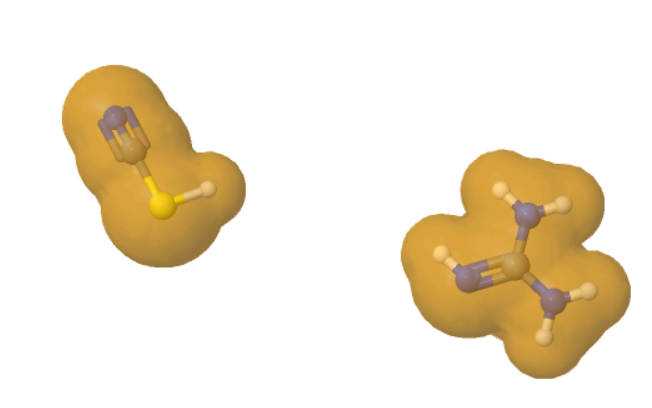 Guanidine Thiocyanate
Prod. No.                Quantity                        Price (USD)
GT100101000                 1kg                                 195.00
GT100105000                 5kg                                 731.25
GT100110000                10kg                              1,170.33
GT100125000                25kg                              2,340.75
GT100150000                50kg                              3,524.25
GT100100000              100kg                              5,267.85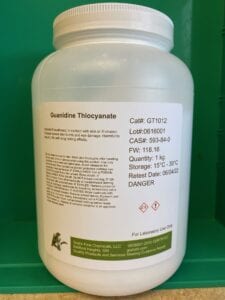 Strong sequestering and denaturation reagent guanidine thiocyanate is also known as guanidine isothiocyanate, guandinium cyanate, guandine thiocyanate, guanidinium rhodanide, thiocyanic acid with guanidine and guanidine, monothiocyanate , with an acronym of GITC. It is the essential reagent for nucleic acids sample preparation in molecular diagnostics and in life science field.
This compound is a strong chaotropic agent and is commonly used as a protein denaturant in sample preparation protocols for extraction of DNA, extraction of RNA and similar applications. Besides being a protein denaturant the guanidine thiocyanate acts as a nucleic acids protector (due to denaturation of nucleases), during extraction and purification protocols and during storage.
In case of storage and sample preparation of viruses the guanidine thiocyanate prevents RNA virus degradation by denaturing RNAse and DNAse enzymes and at the same time is making virus deactivated by removing its protein coats, and thus making samples safer to work.
As such, the guanidine thiocyanate is an essential reagent for COVID-19 molecular diagnostics test manufacturing. It is used for the stabilization and deactivation in viral collection part of the kits, as well as for protein denaturation during the sample preparation of the viral RNA.
Due to the increased demand during the COVID-19 pandemic, this material becomes hard to source. Gojira Fine Chemicals LLC, is here to help you to break the bottleneck of your guanidine thiocyanate supply, a trusted supplier of guanidine thiocyanate. We carry large stock of this essential reagent in our inventory in our Ohio facility, and have one of the best bulk pricing currently available.
We can provide you with all of your molecular biology/molecular diagnostics guanidine thiocyanate needs, ranging from 1kg up to 100,000kg at the time. Please contact us for current pricing and inventory details.
Guanidine Thiocyanate
CAS Number:  593-84-0
Linear Formula:   NH2C(=NH)NH2 · HSCN

Molecular Weight:
   118.16
Beilstein/REAXYS Number:   3563461
EC Number:   209-812-1
MDL number:    MFCD00013027
NACRES:    NA.31
PubChem Substance ID:   24895367
Storage:  15oC – 30oC
GT1001 Guanidine Thiocyanate, Molecular Diagnostics Grade Specs: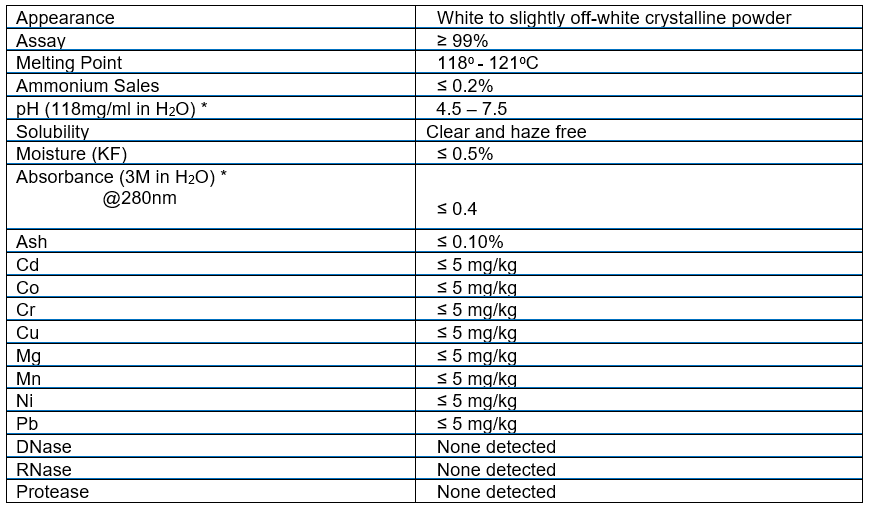 Unless otherwise indicated, Gojira Fine Chemicals, LLC products are  intended as raw ingredients for manufacturing  and research use only, and are not  for therapeutic or nutritional use in humans or non-research animals. It is the ultimate responsibility of the customer to determine if the particular product is fit for their intended purposes